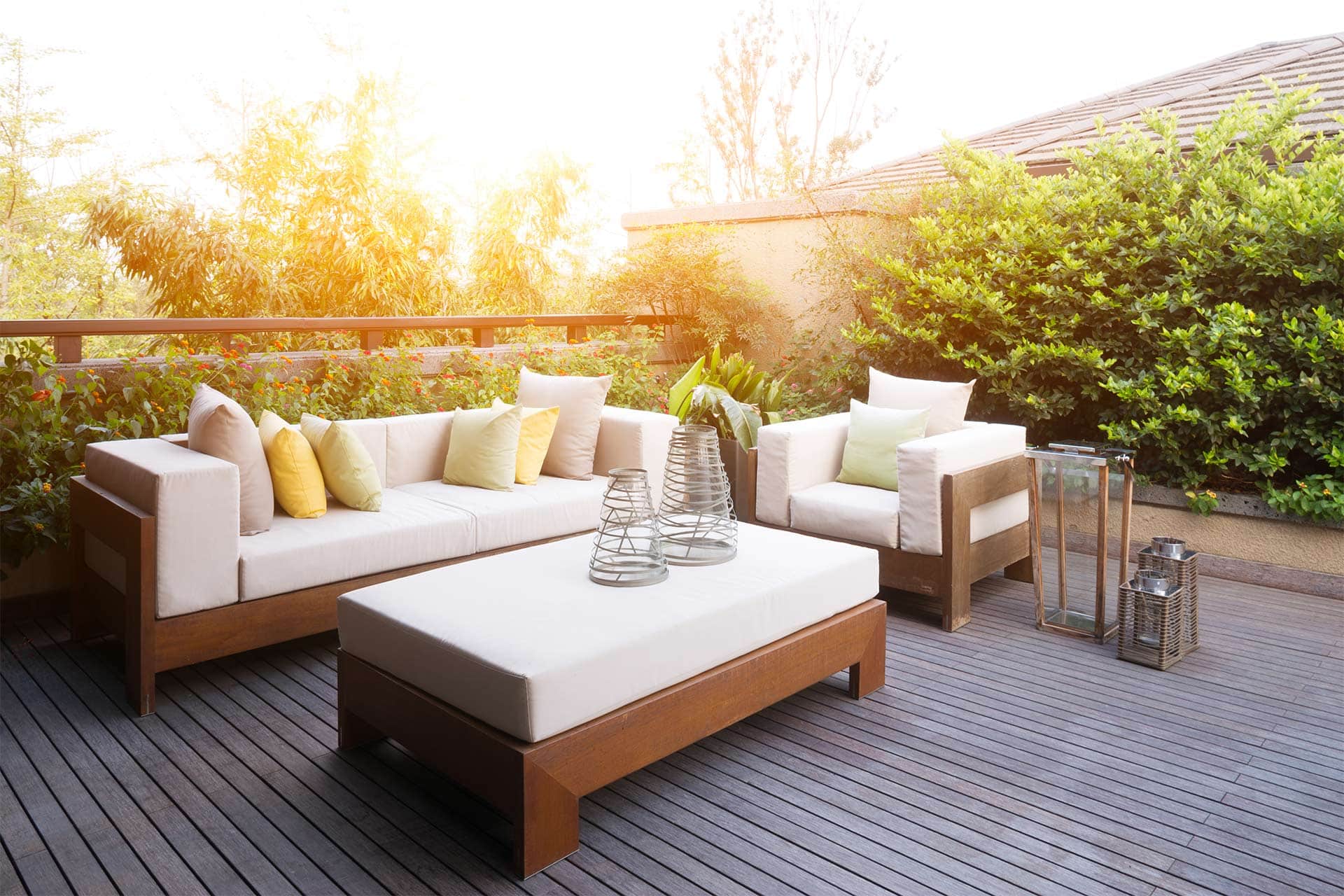 Decking in Wolverhampton, Dudley and surrounding West Midlands
Ideal for creating an attractive outdoor feature or a prime spot for socialising in the sun, decking is a popular option with many.
At Wolverhampton Landscapes and Paving, our experts can design and install decking for all size gardens and can also fit a range of features, such as gates, fences and steps. Decking installation is also ideal for uneven landscapes as it can often be easily designed to overcome issues in the garden, such as sloping landscapes. 
We are proud to provide our comprehensive decking installation services for all outdoor spaces. Based in Bilston, we provide patios to customers throughout Wolverhampton and the wider West Midlands, covering a 25-mile radius.
Decking Repair & Replacement
Over time, decking can fall apart, often as a result of poor care, accidental damage or neglect. As a result, this deterioration can pose a safety risk as well as appearing unsightly.
Here at Wolverhampton Landscapes and Paving, we also specialise in decking repair and replacements alongside our installation services. As part of our decking service, we will ensure all local building regulations are followed, while we are also happy to offer advice on maintaining the area.
So, whether you require minor repairs or a complete deck replacement, our team have the expertise to perform the work to the highest standards.
An attractive and highly functional outdoor space ideal for relaxing and entertaining guests, decking is a popular option with many homeowners. However, installing decking without the appropriate expertise can become troublesome, which is why working with experienced decking installers is always highly recommended.
So, from the initial planning and design to the fitting and final touches, you can rely on our team of expert decking installers to undertake the entire process from start to finish.
What are the Benefits of Adding Decking to an Outdoor Space?
Whether to create a more appealing place to relax or a low maintenance space for day-to-day use, installing decking can be a great solution that offers several benefits.
Why Choose Wolverhampton Landscapes and Paving?
Here at Wolverhampton Landscapes and Paving, our customers choose our services for several reasons.
Get in touch with us today. We are available 24 hours a day, seven days a week, to discuss your decking needs in Wolverhampton and the wider West Midlands.